#InfiniteRadiance
Clé de Peau Beauté.
"The key to skin's beauty" in French.
Clé de Peau Beauté was founded in 1982
with a singular mission:
to forge new frontiers in advanced skin cell science—
and become the key that unlocks skin's
most radiant potential.
2022 marks 40 years of scientific research unparalleled in its depth and rigor.
40 years of sublime creations made possible
through sophisticated,
leading-edge technology.
40 years of meticulously crafted ingredients and textures incredible to the touch.
Combined, they have the power to make beauty limitless.
They have the power to
transform the world.
Today, Clé de Peau Beauté
has grown into a luxury brand
with an ever-expanding global presence.
With unwavering dedication, we will continue bring you
highest-quality skincare, complexion and color.
Unmatched hospitality
and customer experience.
And science that, at every turn, hands you the key to a most radiant future.
An expression of the number 40 from design to dimension.
Built around Fibonacci's golden ratio,
with an iridescence representing the intrinsic radiance
within each individual, projected and shared.
THE INFINITE RADIANCE PROJECT
THE INFINITE RADIANCE PROJECT
Founded in 1982, Clé de Peau Beauté celebrates forty years of craftsmanship, science and innovation with a commemorative artwork. Our fascination with radiance led us to a collaboration with UK-based light artist, Chris Wood. For over 20 years, Wood has honed her vision and crafted unique works on the singular ambition of expressing the phenomenon of light through the understanding of its science. As Wood so eloquently expresses, "The collaboration represents a true meeting of the minds".
The piece, aptly named '40 x 40', is built on like-minded principles and a mutual passion for expressing radiance in infinite ways. Based on the number 40, as well as the science of Fibonacci's golden ratio, its masterful design reflects Clé de Peau Beauté's signature scientific approach to beauty. The specialness of the piece lies in its constantly evolving light, echoing our infinite potential collectively, as well as the brand's evolution over time. Reflecting both the past and the future, '40 x 40' is an homage to Clé de Peau Beauté's future-focused philosophy: always looking forward, inspired by the infinite possibilities of radiance.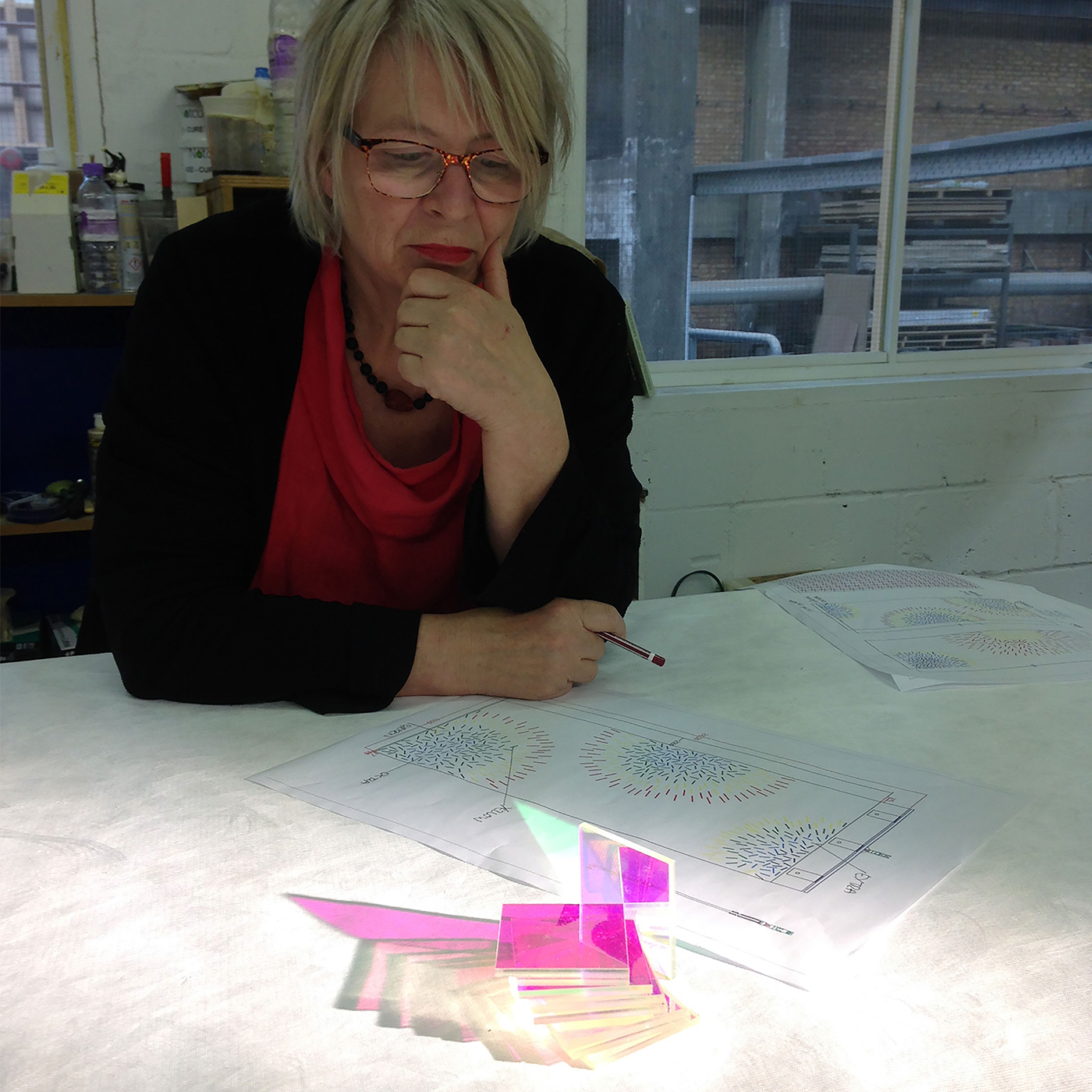 CHIRS WOOD
CHIRS WOOD PROFILE
For over 20 years, Chris Wood has been creating light artworks in the UK and around the world. Chris's love for light is inspiring, and her deep understanding of its many phenomena has seen her interviewed for a number of articles and content pieces on art and design.
Chris oversees all operations at her namesake atelier, Chris Wood Light – from assessing the suitability of a location through to designing large scale architectural installations.
Internationally renowned for her work with dichroic, Chris develops her sophisticated designs with a combination of computer-aided 3D visualization software and hands-on material exploratory. Her pieces, brought to life through her passionate study of light.
OFFICIAL SITE
https://www.chriswoodlight.art/

A unique perspective on skin.
A defining theory in the same research field
as Nobel Prize-winning findings*
on information transmission
through the cell membrane.
Clé de Peau Beauté scientists believe that skin has an intuitive ability to recognize,
and respond differently to,
positive stimuli versus negative stimuli.
That it has an autonomic ability
to detect, identify,
communicate
and act on its own,
independent of the brain.
*Roderick MacKinnon, 2003