THE POWER OF RADIANCE PROGRAM
CLÉ DE PEAU BEAUTÉ HONORS THOSE WHO EMPOWER WOMEN AND GIRLS
TO GIVE RADIANCE BACK TO THE WORLD THROUGH EDUCATION
Clé de Peau Beauté has launched a multi-year philanthropic commitment that honors inspirational women from around the world whose advocacy for women and girl's education has led to positive long term impact on lives.
The program will select an Award Recipient annually to receive a grant donated to a charity of her choice, in support of educational initiatives. Through this endeavor, Clé de Peau Beauté seeks to empower women and young girls through the gift of knowledge and learning, and make a tangible difference by igniting radiance within the world.
In its inaugural year, the Power of Radiance program will celebrate its first annual award recipient, Muzoon Almellehan, the first individual with refugee status to be a UNICEF Goodwill Ambassador. The program's Global Ambassador, Felicity Jones, and program contributors, Cindi Leive, Naomi Kawase, and Belinda Lee, lend their talents to share the program mission and inspire others to support education around the world and in their communities.
"Education is the most potent equalizer of opportunity. And for nations, investing in quality education for children and young people creates the foundation for more peaceful and prosperous families, communities and economies. I will never stop speaking out for those whose voices have been silenced for too long, until every child is in school and learning."
Muzoon Almellehan, UNICEF Goodwill Ambassador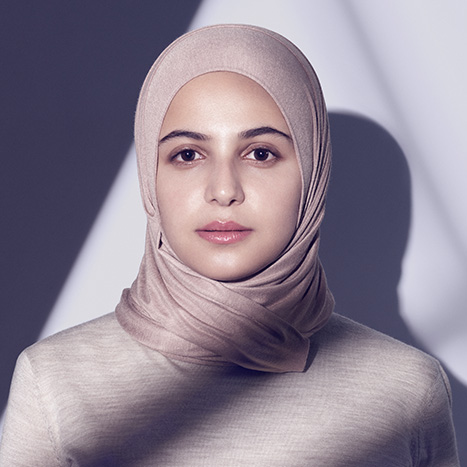 AWARD RECIPIENT
MUZOON ALMELLEHAN
In 2017, at just 19 years of age, Muzoon Almellehan, education activist, and the first person with refugee status was appointed as a UNICEF Goodwill Ambassador.
After fleeing the conflict in Syria in 2013, Muzoon and her family spent three years living in refugee camps in Jordan. Her education campaign started when she was just 14 years old, when she went from tent to tent convincing families that their daughters needed an education.
GLOBAL LAUNCH EVENT OF THE POWER OF RADIANCE PROGRAM
On 19 March 2019, Clé de Peau Beauté announced the global launch of The Power of Radiance program. Over 100 guests attended the inaugural event at the Grand Hyatt Tokyo to mark this memorable occasion, including top-tier media and key influencers from all over the world.
The event kicked off with opening remarks by Mr Masahiko Uotani, President and Group CEO of Shiseido Group, followed by a speech from Ms Yukari Suzuki, Chief Brand Officer for Clé de Peau Beauté. Following this, Global Ambassador of Clé de Peau Beauté Ms Felicity Jones introduced the program's first award recipient – Ms Muzoon Almellehan – and presented her with the Power of Radiance Award.
After the awards ceremony, Ms Cindi Leive moderated a panel discussion featuring Ms Jones, Ms Almellehan, Ms Naomi Kawase and Ms Belinda Lee. Ms Almellehan was invited to share her incredible story, fleeing from Syria and leaving everything she owned behind except her school books. This inspirational group of women also shared their personal quests in advocating for education and a shared belief that The Power of Radiance can make a real impact on the world.
Ms Jones and Ms Almellehan were also each presented with Le Clé – a symbol of Clé de Peau Beauté's commitment to harnessing the power of Education for positive change – and were invited to place them in a custom-designed installation as a symbol of their personal dedication to the Power of Radiance cause.
The event was a celebration of Radiance as a positive energy that empowers women to proactively take action in making the world a better place through Education. It was also a proud milestone for Clé de Peau Beauté, who has pledged to inspire and rally women across the globe to jointly partner and create a more Radiant tomorrow.
About Clé de Peau Beauté
Clé de Peau Beauté, the premier luxury skincare and makeup brand from Shiseido Cosmetics, was founded in 1982 as the ultimate expression of elegance and science. Clé de Peau Beauté means the key to skin's beauty. The philosophy of the brand is to unlock the power of a woman's radiance by harnessing makeup technologies and advanced skincare from around the world. Forever guided by an exquisite aesthetic sensibility and intelligence, Clé de Peau Beauté has instilled its products with modernity, enchantment, and dynamism to emerge as an industry leader in delivering radiance so remarkable, it emanates from within. Available in 13 countries worldwide.

/images/news/pic-news-thumb-por_22ss.jpg